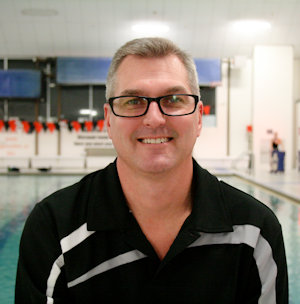 Todd Fritze

Girls Head Coach
Todd Fritze has been coaching and teaching in the Park Rapids School District since 1991. His love of the sport continued after swimming throughout college for MSU-Mankato (The Yale of MN). Now he spends his time coaching students in and out of the pool. His beliefs of making your bed every morning and how your attitude drives your effort are remember by swimmers well after they graduate from his program. In his spare time Fritze enjoys long walks on the beach, Pinterest, learning new magic tricks, eating circus peanuts and playing with cats.

"The only easy day was yesterday."
Megan Helms


Boy's Head Coach & Girls Assistant Coach
Growing up with a love for water, Megan spent most of her time in a pool. Joining a competitive swim club at the age of 7, in Mankato, MN and continuing to swim all throughout high school. Megan continued to swim year-round, joining the Mankato East Cougars, varsity team at her high school, as a 7th grader. She swam all 6 years earning a varsity letter and a spot on the section team for those years. Throughout swimming, she also found her love for coaching. She would go help the club teams after her practices and coached throughout the summers, along with teaching swim lessons. It was hard to imagine her life without the pool. A shoulder injury her senior year ended her chances at swimming in college.
Megan went on to attended Minnesota State University, Mankato to get her Bachelors in Education. She went back to coach Junior High swimming while finishing school. After graduation, she took a long-term special education position where her love for teaching and her students grew. She then accepted a 3rd-grade teaching position in Park Rapids, MN. Where she was lucky enough to also get to coach the sport she loves.
Megan says her parents are her biggest drive when it comes to work, coaching and obtaining her Masters in Special Education. "If it doesn't challenge you, it won't change you," her mom tells her on a daily basis.

Sarah Heise
Sarah Heise is our assistant coach for our High School girls' and boys' swimming and diving. She is also one of our coaches for our swim club program ran through Community Education. Sarah began her coaching career in Williston, ND, as an assistant coach for their USA swim club program, and quickly took over as their Head coach following two seasons, during the summer program in 2015. Following the 2017-18 school year, Sarah chose to move back to her home ground in Minnesota, relocating to Park Rapids. She is thankful for the swim programs in Park Rapids for entrusting in her, as she continues to grow as a coach. Originally from Alexandria, MN, she competitively swam, starting her season as a Cardinal in USA swimming, since she was five years old. Sarah preciously remembers each year of swimming being the best, especially those seasons in USA swimming. She trained hard during her swimming career, as an athlete, recalling begging her parents to attend both practices during the summer season. Her high school career began as a seventh grader earning a spot on the varsity team in two individual events and two relays. Although Sarah's role of a special education teacher during the day keeps her busy, she is able to quickly change her role to "Coach". She is very passionate at teaching and coaching, as she is very proud of her "kids" and athletes. Sarah is always excited to facilitate the growth of young people, not only athletically, but also through the opportunity of the many valuable life lessons learned through competitive swimming.